In order to enhance team cohesion, increase staff belonging, promote corporate culture construction, form a good enterprise centripetal force and cohesion, promote mutual understanding and communication.Make every employee feel the warmth of the family of Glare-led, the evening of October 23 18:30, Glare-led hold a birthday party of the third quarter of employees for the theme of "life needs a sense of ritual, work needs a sense of belonging!

To the sound of joyful music, more and more people came to the Glare-led's staff birthday party one by one. Look!Elaborate birthday venues;Goods!A great variety of food.In this joy and laughter, the birthday party officially began!Delicious cakes, good wishes and of course, gifts is prepared by Glare-led's administration and Human Resources department.


First of all, the game, drum pass flowers, with the rich sense of rhythm of the music sounded, we will be in the hands of the water bottles constantly passed, the music stopped, who in front of the water bottles needed to gave a performance to add the fun.Three rounds of the game, the research and development department colleagues xiao li is really lucky to get two "reward", in everybody's urging, give us to sing his disco diva wolves, his unique voice, let everyone calm among them, the production of xiao liu has also had a chance to show themselves, bring you a birthday song, I wish you all a happy birthday!
The next part is to blow out the candles and eat the cake. With the music of "Happy Birthday to you" , the carefully prepared cake is slowly presented and the Glare-led's birthday stars sit in a circle and sing happy Birthday to you!Let's blow out the candles, make a good birthday wish together, take a photo as a souvenir, and remember this unforgettable birthday party!

Every effort, every detail, reflects the warm care of employees, but also shows the warmth and tolerance of the big family.There are laughter, touched, surprise, harvest, every wonderful moment is enough to let people remember deeply, every warm moment is enough to let people treasure !
Work, an encouraging eyes, let us feel warm;In life, a heartfelt concern, let us heart joy.Today, a simple happy birthday brings us the warmest wishes from Glare-led family. Recorded every unforgettable moment when we were together.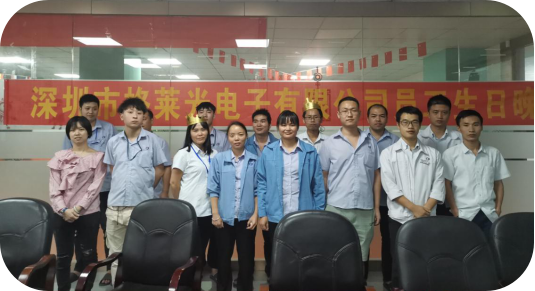 We will continued work together to build a team full of affection and love, full of centripetal force and cohesion in the future . I wish happy birthday to The Family of Glare-led, and also wish all Glare-led will be better and better tomorrow. I wish Glare-led vigorous development!